Preparatory Courses for NCCCO Certification NCCCO Classes
Get your NCCCO Crane Certification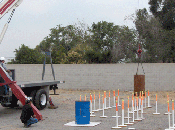 Since 2004 we have helped thousands of mobile crane operators to become CCO certified. We can help you whether you are an individual or have a team of 50+ mobile crane operators to be cco certified. We offer a two-day prep class which has a phenomenal pass rate. Don't settle for an inexperienced company when making this huge decision. Let our qualified staff show you how we can help.
Call 1 877 226-6006 and ask for Gregg
See how easy it is to get Your CCO Certification card with our Proven Methods. We have the experience to get you started right away. We have helped thousands of operators get their CCO Certification throughout the country.
Call 1 877 226-6006 and ask for Gregg or request more information through our Contact Form
Services Provided
Preparatory Courses for NCCCO Written Examination
Two Day Course: Designed for the experienced crane operator who needs review or refresher information to help ensure appropriate preparation for the exam. Our curriculum assists in preparing the candidate for the Core exam and their particular specialty (i.e. Small, Large, Lattice, etc.)

Four Day Course: Designed for the inexperienced crane operator. Two days are added to the front end of the Two Day course. These first two days provide the inexperienced operator with crane operation fundamentals and terminology. These first two days better prepare the inexperienced operator to keep pace with the content-rich, experienced operator curriculum.

NCCCO Written Examination
On the day after the two-day and four-day courses, we schedule the NCCCO Written Exmaination. OSTS has found that it is best to have candidates take the exam immediately to ensure maximum retention of prep class information.


NCCCO Practical Examination Practice
OSTS can coordinate setting up a course at your location and has pre-designated sites where candidates can operate a crane through a mock course. Ideally, operators should practice and take the practical exam on their own equipment. Equipment familiarization is a tremendous advantage when taking the exam. This practice ensures that the candidate is as prepared as possible for the NCCCO Practical exam.
Practice time can be purchased by the hour, half-day, or full-day.


NCCCO Practical Examination
OSTS can coordinate and schedule Practical examinations for individuals or groups at your location or at our pre-designated sites. All exams will be administered by an NCCCO Certified Practical Examiner.


Other Crane-Related Training Services
OSTS' crane experts can also provided crane training for those operators who do not required Certification. Qualified crane training, meeting / exceeding OSHA requirements, can be provided for mobile, overhead, pendant, barge, and more.